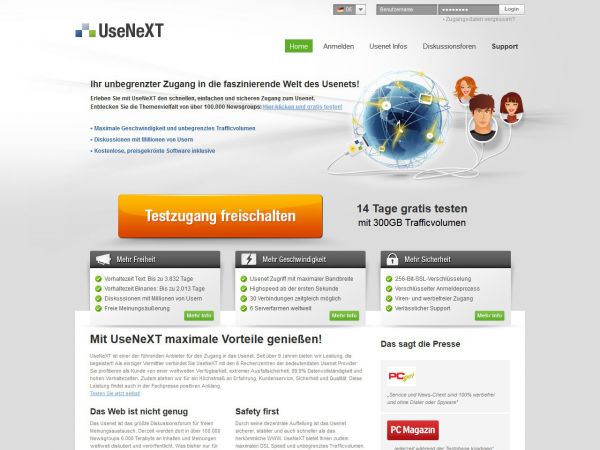 UseNeXT is a German-based provider of Internet Usenet access, and the company has been established more than nine years. Customers can access all six server farms available from the largest Usenet providers after signing up with UseNext, giving access to over 100,000 different newsgroups.
The principal benefits of Usenet are its stability, speeds and decentralized structure. Users benefit from faster speeds, with unlimited traffic volumes. Usenet is the biggest provider of news and discussion groups, and was previously only available to professional users and corporations. Internet consumers seeking freedom of expression and opinion are well advised to register with Usenet providers for the quickest downloads at full bandwidth and freedom from adware or spyware.
UseNeXT, Germany Features
The major features Of UseNeXT.de are:
greater latitude
more safety
faster speeds
Consumers have the ability for free discussions with millions of other Internet users, with retention of text files up to 3,832 days and binaries up to just over 2,000 days. Major safety issues of this service include 256-bit SSL encryption, encrypted registrations and the service is free from adware or spyware. Downloads are immediate and available at full speed and give customers abilities to hold up to 30 concurrent connections.
Usenet and all its associated newsgroups are accessed via a newsreader client. UseNeXT.de provides customers with a free choice of available newsreaders, which can be of immense benefit to customers needing to search for specific content or use different languages.
UseNeXT.de is one of the largest providers of Usenet services and customers benefit from worldwide coverage, high retention rates and great customer service facilities. The company website features a number of useful pointers in the FAQs section, while personal customer support is available via email contact forms or direct dial telephone support, for English, French or German speakers. Telephone lines are open Monday to Saturday during office hours only.
http://www.usenext.com/support/
Customer Support
Telephone hotline numbers are:
English: 0049 89 20 17 20 16*
German: 0049 89 20 17 20 17*
French: 0049 89 20 17 20 15*
* All calls will be charged at flat rate costs of standard calls to Munich, Germany.
Consumers can take advantage of the 14-day free trial of UseNeXT.de and three payment plans are available to suit specific needs. These are: Smart Plan, giving full access to Usenet with 30GB data transmission at full bandwidth which is followed by access up to 1,000 kbit/s; Comfort Plan, giving 80GB and 1,500 kbit/s; and Premium Plan giving 250GB and 2,000 kbit/s. Members needing higher volume levels can bring forward allowances from the following month, when essential and this can be flagged within the members' area. Memberships can be taken out monthly, with annual subscriptions available on Smart Plan only, for up to 12 months.
Free, prize-winning software is also included with the UseNeXT.de subscription which gives access to the Usenet servers with lots of options including a comfortable search and search filters.
UseNeXT.de also offer an Affiliate Program with unlimited commission levels and advertising.