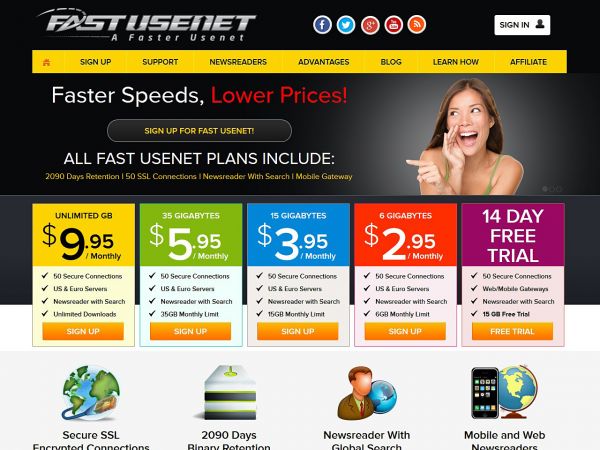 Fast Usenet was established on November 23, 2010. The company is based in the United States. It is owned and operated by Usenet Services LLC with its head office located in Colorado Springs, Colorado
Fast Usenet is a Global Usenet service provider that offers top quality service to Usenet users worldwide.
Fast Usenet Features
Binary Retention
Fast Usenet services offer customers with 2480+ days of binary retention with up to 99% completion rate on all newsgroups supported.
Data Transfer Limit and Speed
Fast Usenet utilizes specialized software for information storage on their servers. This allows their service to provide faster downloads speeds and connection.
Their service provides unlimited bandwidth usage with their Unlimited GB plan. They also offer other plans and packages with various data transfer limits and cost.
All plans offered by their service provide up to 50 simultaneous connections to maximize download and connection speed. However, only one IP address is allowed to connect with their service at any time, eliminating the possibility of sharing accounts using multiple IP addresses.
Usenet Accessibility
Fast Usenet has peering relationships with over 100,000 high quality newsgroups connected to their US and Europe server farms.
Free Newsreader With Search
Fast Usenetoffers all plan subscribers with a free customized edition of GrabIt Newsreader (with unlimited search) to quickly and easily search and download contents on all Usenet servers supported by their service.
14 days free trial
Fast Usenet provides customer with a free 14 days trial on all plans and packages offered by their service.
The 14 days free trial is limited to 15 GB data transfer usage and requires a pre-authorization charge on your credit card payment ($0.01).
On the other hand, because of the free trial and the pre-paid nature of their plans and packages, they do not offer refunds on any subscription payments.
Customer Support
Their customers support can be reached through the following methods:
Phone:
1-888-415-7781 – Billing issues only
Live Chat:
http://www.fastusenet.org/livechat.html
Ticket system:
http://www.fastusenet.org/support/
Review Summary
Fast Usenetprovides a great Usenet experience with their high retention rates, affordable price and fast connection speeds. Their various plans and packages are well designed to accommodate different types of Usenet service users.