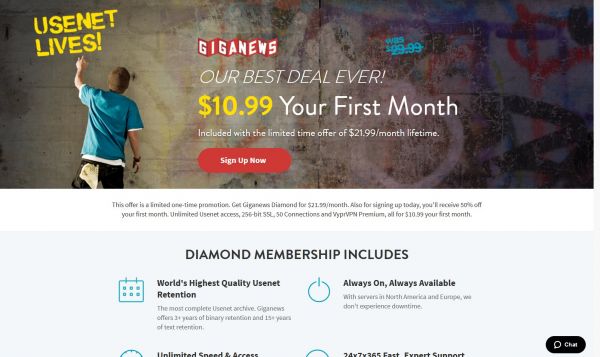 Giganews started on October 15, 1994, when a group of entrepreneurs created one of the first internet service providers using a Sun SPARC Classic workstation. During these times, they also laid the foundation of what the future Giganewsis to be by creating their very first news server. Although, their Usenet service was not officially launched until the summer of 1998, the establishment of their news server paved the way in setting the standards in newsfeed service around the world.
Today, Giganews is one of the leading Usenet Access providers in the world. They offer the best retention rates with fast download speed and reliable service.
Giganewsis based in the United States with their head office located in Austin, Texas.
Giganews Features
Binary Retention
They have the best Usenet retention rates in the market with a binary retention rate of 2367 days and a text retention rate of 4366 days on all of the 110,000+ newsgroups that they connect to.
Data Transfer Limit and Speed
Giganewsprovides Diamond and Platinum plan subscribers with unlimited access to their Usenet service (Pearl plan – 5 GB monthly access, Bronze plan – 10 GB monthly access, Silver plan – 50GB monthly access). In addition, unlike other Usenet access providers, they maintain their own servers in order to deliver faster download and connection speeds for their customers.
Giganews provides up to 50 connections for Diamond plan users and 20 connections for Platinum, Silver, Bronze and Pearl plan users. Unfortunately, even though they allow a large number of connections per user, account sharing is prohibited and violation of this policy may result to the termination of the account.
Usenet Accessibility
They have one of the highest numbers of newsgroup relationships with over 110,000 high quality discussion groups supported by their service.
Free Usenet Browser and Online Storage
All Giganews customers get a free Mimo multiplatform Usenet browser included in their Usenet plans and packages.
Tip for companies and organisations: Usenet servers of that kind can generally be created by anyone. All you need is a good server hosting package. This could even be a cost-effective solution such as a virtual private server or cloud VPS. Suitable offers and more information can be found at Peer-Server – VPS comparion.
Free VPN service
Diamond plan users get a free VyprVPN pro service and Platinum plan subscribers get a VyprVPN basic service with their subscription packages.
14 days Free Giganews Trial
Every subscription plan that Giganews offers includes a 14 days free trial feature, so that users can check out Giganewsservices risk free. However, the free trial feature does not allow you to post and is limited to 10 GB of bandwidth usage.
Giganews does not offer any money back guarantee after the trial period.
Customer Support
Customers support can be reached through the following methods:
Email:
Live Chat:
On their website- http://www.giganews.com/
Technical instructions and details of their services can also be found in their websites FAQs section.
Review Summary
Giganews delivers a solid Usenet access experience. It offers one of the best features and packages in the market. However, their unlimited plans are a bit expensive and the other plans that they offer have monthly bandwidth usage limits.