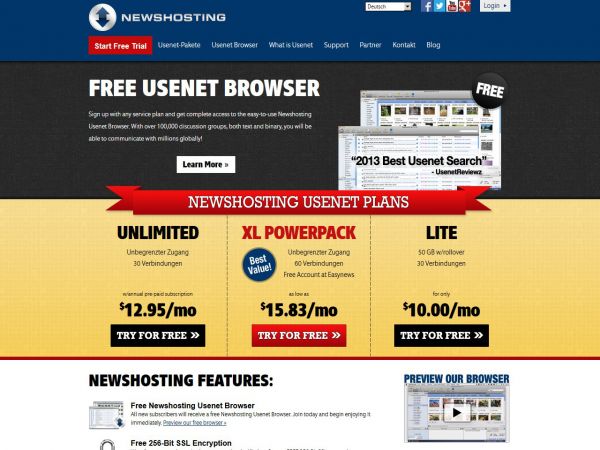 Newshosting is one of the oldest Usenet service providers in the market today. They have been around since 1999 and they have continuously served customers with fast and secured Usenet access worldwide.
The company operates from the state of Florida. They provide users with access to over 110,000 newsgroups with its US and Europe server farms.
Newshosting Features
Binary Retention
Newshosting provides customers with over 4,383+ days retention on all 110,000+ newsgroups covered by their services.
Data Transfer Limit and Speed
Newshosting affords its users with one of the highest numbers of allowed concurrent connections (XL plan- up to 60 connections, Unlimited and Lite plan – up to 30 connections). It owns and operates their multi-Gbit server farms across US and Europe, which provides users with ultra-fast Usenet access anywhere in the world.
They also provide unlimited Data transfer usage with their Unlimited and XL POWERPACK plans (Lite plans subscribers can enjoy up to 50GB of data transfer per month (with roll over feature)).
Unfortunately, there is no information available about account sharing on their website. However, due to the number of connections allowed, you can probably share your account with your room mates using the same IP address (unofficially).
Usenet Accessibility
With Newshosting, you will be able to find and access any discussion group that you need. They have connections to over 110,000 uncensored newsgroups worldwide.
Free VPN and SSL Connection
Newshosting takes your online security and privacy seriously, that is why they include a free 256-bit SSL encryption for all Usenet plans that they offer. In addition, they also offer a free Free Zero-Log VPN to all XL POWERPACK plan users, to ensure that they are protected and their privacy and anonymity are secured.
Newshosting also present Unlimited and Lite plan users the option to include a VPN connection service with their subscription plans by paying an additional fee of $4.99 per month.
Free Usenet Browser and Easynews
All new Newshosting subscribers will get a Usenet Browser with built-in search and file preview feature for free. Plus, XL POWERPACK plan subscribers will get an additional free 10GB Usenet access from Easynews.
Customer Support
Newshosting users can reach customer support through the following methods:
Email:
Their FAQ section can also provide answers to common questions and technical inquiries.
Review Summary
Newshosting is one of the pioneers in the Usenet service industry. They provide world class service and features at a reasonable price. However, they do lack live chat and phone support and their maximum 60 connections per month for the XL POWERPACK plan is overkill.
Overall, Newshosting is ideal for account sharing (using the same IP [unofficially, of course]) and their multiple features and freebies (VPN, browser and Easynews account) is an added bonus for those who want fast and reliable Usenet access.