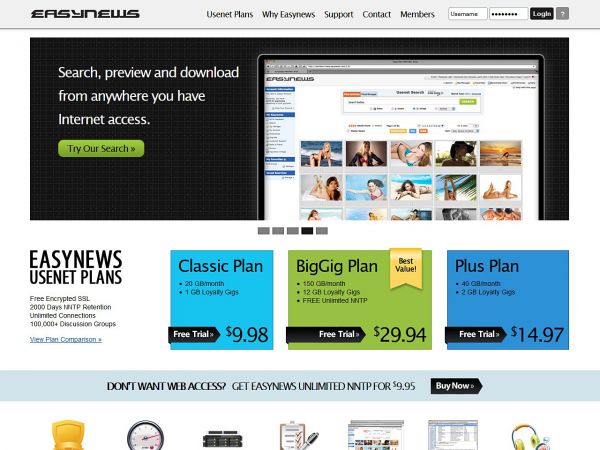 Easynews is a US based Usenet access provided located in Winter Park, Florida. The company was established in 1994 and is owned and operated by Easynews Holdings, Inc.
Easynews has over 15 years of experience in providing premium Usenet services worldwide.
Easynews Features
Binary Retention
Easynews provides 4383+ days retention.
Data Transfer Limit and Speed
Unlike other Usenet access providers, Easynewsmanage and operate their own servers and routers, thus, providing their customers with faster and more direct connection access to Usenet servers around the world.
Their plans and packages are based on monthly web data transfer usage. They offer different plans to customers ranging from unlimited data transfer per month to 20 GB data transfer per month. In addition, they also offer an unlimited NNTP access subscription to their users.
Easynewsoffers users up to 60 connections per account. Unfortunately, account sharing is not allowed with their service.
Usenet Accessibility
Easynews has acquired connections to over 100,000 newsgroups worldwide with up to 99% completion rate on all their supported discussion groups.
Loyalty Gig
Easynews rewards its loyal subscribers with a free additional GB of data transfer limit for every year of continuous subscription (12GB for BigGig Plan, 2 GB for Plus Plan and 1 GB for classic Plan)
Free SSL and VPN service
All plan subscribers are provided with a free 256-Bit Encrypted SSL to protect their online connection and information. Furthermore, BigGig plan subscribers are given a free VPN service with their accounts ( Plus and Classic Plan users are given the option to add the VPN service to their account for an additional cost).
14-Day Free Trial
All Easynews plans and packages include a 14 days free trial, so that users can try their services risk free. However, the free trial automatically ends when a customer has used up 10 GB of bandwidth with their free account within the 14 day trial period.
A pre-authorization payment is deducted to the payment method used upon registration of the free trial account. Easynews will refund the payment if a user cancels his subscription within 14 days upon activation of the trial account.
Customer Support
Customers support can be reached through the following methods:
Email:
support@easynews.com
Support forum:
https://support.easynews.com/forum/
Answers to common questions can also be found in their websites support and FAQs section.
Review Summary
Easynews is a solid premium Usenet access provider. However, all the plans and packages they offer are capped with a data transfer usage limit. On the other hand, it is highly recommended for those who rely on bandwidth usage when selecting a package for their Usenet access.