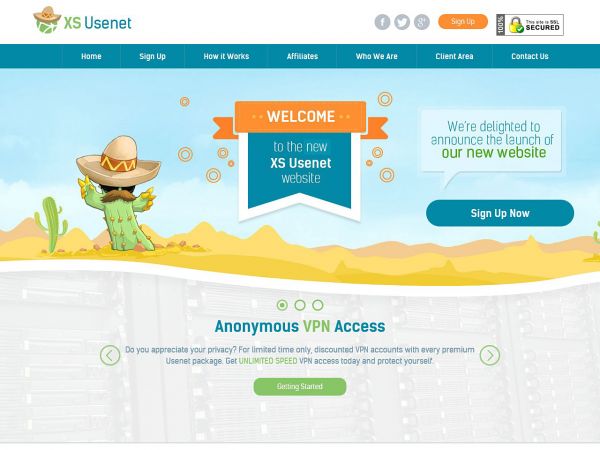 XS Usenet is a Usenet access provider based in Sweden that was established in the year 2009. They are the first company to provide a free lifetime Usenet package to users worldwide.
Today, the company offers premium Usenet access packages based on connection speed.
XS Usenet Features
Binary Retention
They offer premium users with up to 1,100 days retention with 99% completion rate on all newsgroups that they connect to.
Free users are given a limited 10 days retention on all allowed newsgroup servers.
Data Transfer Limit and Speed
XS Usenet provides unlimited data transfer usage on all its plans and packages, including the Free Plan. However, the connection speed is dependent on the plan purchased by the subscriber (120 Mbit/s, 100 Mbit/s, 10 Mbit/s, 3 Mbit/s and 1 Mbit/s for the free plan users).
The number of connections per account is also dependent on the plan. It ranges from 2 connections for the free plan, up to 50 connections for the 120 Mbit plan. Unfortunately, the number of host allowed per account is limited to 1, eliminating the option for account sharing.
Usenet Accessibility
XS Usenet connects to all major newsgroups worldwide. They support over 100,000 discussion groups with their Europe server farms.
Free Lifetime Plan
They are the first Usenet access provider to offer a free lifetime Usenet access worldwide. However, the free plan is limited to 1 Mbit/s connection speed, 10 days retention and a maximum of 2 connections for the account.
Free SSL Encryption
XS Usenet provides a free 2048 bit SSL encryption on all the plans offered by their services (except the Free plan).
Refund Policy
New customers can claim a 100% refund on their payment within 72 hours upon purchase of their subscription, on the event that their account suffers from technical errors.
Optional VPN service Add-on
All plan subscribers have the option to include a VPN service on their account for an additional fee of 2.99 Euros.
Customer Support
Customers support can be reached through the following methods:
Mail:
XS Usenet
Värmdövägen 87
SE-13135 Nacka
Sweden
Email:
support@xsusenet.com
Contact Form:
https://my.xsusenet.com/
Answers to common questions and details of their services can also be found in their websites FAQs section.
Review Summary
XS Usenet offers strong online protection when accessing newsgroups online. It also offers a variety of plans and packages for every user's needs and requirements. Furthermore, they offer a free lifetime plan for everyone who wishes to try their services risk free.
On the other hand, their retention rate is a not among the highest in the market and they do not allow account sharing on their services.