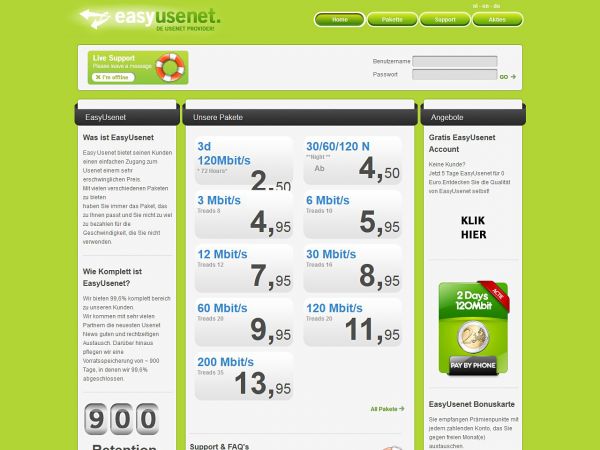 EasyUsenet is a Usenet access provider based in the Netherlands. They provide flat rate plans and packages based on Usenet access speed to over 150,000 discussion groups worldwide.
Easy Usenet Features
Binary Retention
EasyUsenet offers customers with up to 900 days of binary and text retention rates on all newsgroups supported by the service.
Data Transfer Limit and Speed
All of their plans and packages offer unlimited bandwidth usage to customers. However, their access speed is dependent on the plan purchased (200 Mbit/s, 120Mbit/s, 60 Mbit/s, 30 Mbit/s, 12 Mbit/s, 6 Mbit/s and 3 Mbit/s).
EasyUsenet also provides users with up to 15 connections on all plans offered. Furthermore, account sharing is allowed on 60 Mbit/s, 120 Mbit/s and the 3 days 120 Mbit/s package.
Usenet Accessibility
Their service lets you connect to over 150,000 newsgroup servers all over the world with up 99.6% completion rate.
Free SSL
EasyUsenet provides users with free 256-bit SSL encryption to protect their connection and data online.
5 days free trial
They provide a 5 day risk free trial to new users, in order to test their features and services.
Their refund policy is not clearly stated on their website, but it is indicated that they can refuse to refund any customer if the service has been delivered.
Customer Support
Customers support can be reached through the following methods:
Email:
Contact form:
https://www.easyusenet.nl/en/contact
Review Summary
EasyUsenet is highly recommended for Usenet users that are dependent on the connection speed of the service that they subscribe to. However, the prices of their services are a little bit on the high end compared to other service providers in the market.
EasyUsenet Subscription Plans and Pricing
200 Mbit/s Package
13.95 Euros per month
Or 38.95 Euros for 3 months
Or 71.95 Euros for 6 months
Or 128.95 Euros for 12 months
Or 219.95 Euros for 24 months
Unlimited data transfer usage
200 Mbit/s connection speed
Free SSL
900 days retention
No account sharing
120 Mbit/s Package
11.95 Euros per month
Or 32.95 Euros for 3 months
Or 59.95 Euros for 6 months
Or 109.95 Euros for 12 months
Or 189.95 Euros for 24 months
Unlimited data transfer usage
120 Mbit/s connection speed
Free SSL
900 days retention
Account sharing allowed
60 Mbit/s Package
9.95 Euros per month
Or 26.95 Euros for 3 months
Or 49.95 Euros for 6 months
Or 89.95 Euros for 12 months
Or 159.95 Euros for 24 months
Unlimited data transfer usage
60 Mbit/s connection speed
Free SSL
900 days retention
Account sharing allowed
30 Mbit/s Package
8.95 Euros per month
Or 25.95 Euros for 3 months
Or 45.95 Euros for 6 months
Or 79.95 Euros for 12 months
Or 139.95 Euros for 24 months
Unlimited data transfer usage
30 Mbit/s connection speed
Free SSL
900 days retention
No account sharing
12 Mbit/s Package
7.95 Euros per month
Or 21.95 Euros for 3 months
Or 39.95 Euros for 6 months
Or 75.95 Euros for 12 months
Or 129.95 Euros for 24 months
Unlimited data transfer usage
12 Mbit/s connection speed
Free SSL
900 days retention
No account sharing
6 Mbit/s Package
5.95 Euros per month
Or 15.95 Euros for 3 months
Or 30.95 Euros for 6 months
Or 56.95 Euros for 12 months
Or 105.95 Euros for 24 months
Unlimited data transfer usage
6 Mbit/s connection speed
Free SSL
900 days retention
No account sharing
3 Mbit/s Package
4.95 Euros per month
Or 13.95 Euros for 3 months
Or 25.95 Euros for 6 months
Or 44.95 Euros for 12 months
Or 77.95 Euros for 24 months
Unlimited data transfer usage
3 Mbit/s connection speed
Free SSL
900 days retention
No account sharing
3Days 120Mbit/s Package
2.5 Euros for 3 days
Unlimited data transfer usage
120 Mbit/s connection speed
Free SSL
900 days retention
Account sharing allowed
120 Mbit/s Night Package
This Usenet access service is active during 01.00 and 16.00 only
6.95 Euros per month
Or 18.95 Euros for 3 months
Or 35.50 Euros for 6 months
Or 62.95 Euros for 12 months
Or 109.95 Euros for 24 months
Unlimited data transfer usage
120 Mbit/s connection speed
Free SSL
900 days retention
No account sharing
60 Mbit/s Night Package
This Usenet access service is active during 01.00 and 16.00 only
6.75 Euros per month
Or 15.50 Euros for 3 months
Or 29.75 Euros for 6 months
Or 51.75 Euros for 12 months
Or 89.75 Euros for 24 months
Unlimited data transfer usage
60 Mbit/s connection speed
Free SSL
900 days retention
No account sharing
30 Mbit/s Night Package
This Usenet access service is active during 01.00 and 16.00 only
4.5 Euros per month
Or 12.25 Euros for 3 months
Or 22.95 Euros for 6 months
Or 40.50 Euros for 12 months
Or 70.95 Euros for 24 months
Unlimited data transfer usage
30 Mbit/s connection speed
Free SSL
900 days retention
No account sharing