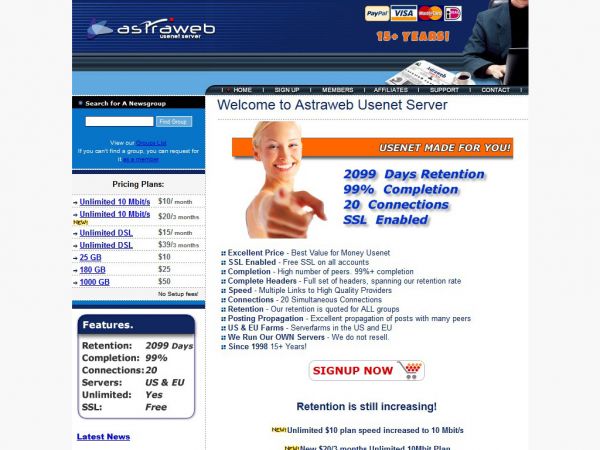 Astraweb is a Usenet access provider established in 1998. It is owned and operated by Searchtech Limited (based in Singapore).
The company provides world class Usenet services with their US and Europe server farms.
Astraweb Features
Binary Retention
Astraweb offers customers with 2488 days retention across all newsgroups supported by the service.
Data Transfer Limit and Speed
Astraweb provides users with unlimited connection speed and data transfer usage with their Unlimited DSL plan. They also offer Pay-by-Download plans with unlimited speed and up to 1000 GB data transfer usage.
All Pay-by-Download plan users can use up to 50 connections at the same time, while Unlimited plan users can enjoy a maximum of 20 connections per account.
Unfortunately, account sharing is not allowed on any of their Unlimited plans.
Usenet Accessibility
Astraweb has peering relationships with all major newsgroups around the world. They also maintain a completion rate of 99% on all discussion groups that they connect to.
Free SSL encryption
All their plans and packages include a free SSL encryption to protect their user's connection and online data.
Money back guarantee
Any customer that is unsatisfied with their Usenet service can claim a full refund within 24 hours upon activation of their account.
On the other hand, they do not provide any free trial on their services, due to the money back guarantee that they offer.
Customer Support
Customers support can be reached through the Contact Form:
http://helpdesk.astraweb.com/
Answers to general questions and details of their services can also be found in their websites FAQs section.
Review Summary
Astraweb offers one of the best Usenet plans and packages in the market today. It offers a variety of options and cost that caters to all types of Usenet users online.
Their Pay-by-Download plans are perfect for Usenet users that base their usage on the amount of data that they use.
Astranews Subscription Plans and Pricing
1000 GB Pay-by-Download Plans
$50 once off payment
No time limit
No expiry date
No posting limits
No censoring
No monitoring
50 connections
Unlimited speed
1000 GB data transfer limit
Free SSL
2488 days retention
180 GB Pay-by-Download Plans
$25 once off payment
No time limit
No expiry date
No posting limits
No censoring
No monitoring
50 connections
Unlimited speed
180 GB data transfer limit
Free SSL
2488 days retention
25 GB Pay-by-Download Plans
$10 once off payment
No time limit
No expiry date
No posting limits
No censoring
No monitoring
50 connections
Unlimited speed
25 GB data transfer limit
Free SSL
2488 days retention
Unlimited Plan
$10 per month
Unlimited data transfer usage
10 Mbit/s connection speed
No download limits
No posting limits
No censoring
No monitoring
20 connections
2488 days retention
Unlimited DSL Plan
$15 per month
Unlimited data transfer usage
Unlimited connection speed
No download limits
No posting limits
No censoring
No monitoring
20 connections
2488 days retention
Unlimited DSL 3 months Plan
$39 for 3 month
Unlimited data transfer usage
Unlimited connection speed
No download limits
No posting limits
No censoring
No monitoring
20 connections
2488 days retention
Unlimited DSL Special Offer Plan
$8 per month
Only available for PayPal payments
Available for a limited time only
Unlimited data transfer usage
Unlimited connection speed
No download limits
No posting limits
No censoring
No monitoring
20 connections
2488 days retention